Location: Hellingly Mental Asylum, Hailsham.
Operatives: Ghost, KaptainKlutz, Holmbush, Bugler, Skyframe, Shades, EtherLow, Simon DaFotografa.
Infiltration Date: May 2009
After meeting up with Agents KaptainKlutz and Holmbush at the bus garage in Lewes Road, Brighton, we set out on our mission for the day: to infiltrate the abandoned Mental Asylum at Hellingly.
We chose the most direct route there; travelling via Lewes, Ringmer, Laughton, Lower Horsebridge and Hailsham. After a quick scout around the place, we found a small car park in woodland just east of the campus and met Agents Bugler and EtherLow. We had debated whether to drive straight up to the door as it is entirely possible, but due to the abundance of cameras and a desire to be as inconspicuous as possible, we stayed with the idea of using the car park and so settled down to wait for Shades and Skyframe, who were elsewhere on a different kind of mission (breakfast, actually).
After a while, Kaptainklutz got itchy feet, so we set off for the LZ, hoping to rendezvous with the breakfast crew a a little later. We spent a good hour messing around looking for the way through the undergrowth from the cycle path, in part because it was a lovely idyllic setting, but mainly because Ghost couldn't remember the way through to the field we took on the earlier rekke visit. Eventually there was much kerfuffle in the undergrowth and the rest of our party arrived. Now, with a vastly superior navigator, we set off for the LZ.
From this point, we use pictures, video and comments either above or below to illustrate our quest.
NB: I revisited this page after finding a further 4gB of photos that I hadn't previously used, but I think it is worthwhile putting them in as a good tribute to the place: a lot of the buildings seen in this report no longer exist, so full access details are shown. 19/04/11.

I'm sorry, guys... but I couldn't let this one pass me by, it just seemed a little too appropriate! At least you can turn it off if it gets too much... Okay! Lights, Camera, Dodgey music...and... Action!!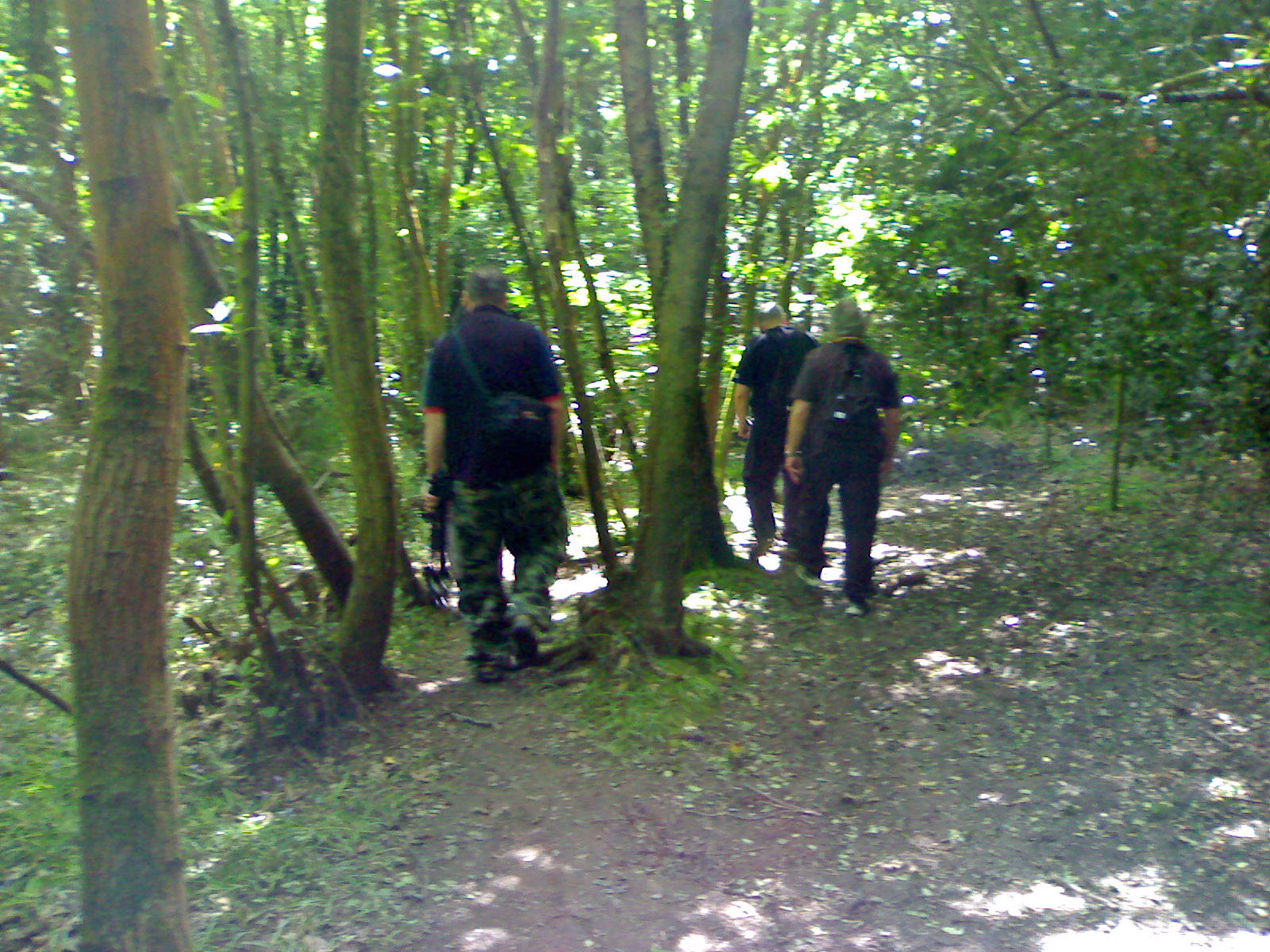 ABOVE: En-route... Agents KaptainKlutz, Holmbush and EtherLow brave the treacherous terrain (!)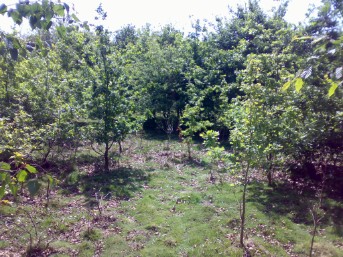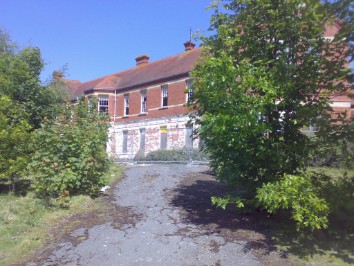 ABOVE LEFT: The site is as much renown for its mature woodland as it is for its buildings. The woodland hasn't been managed since the site formally closed in 1994, so there was a lot of messing about in the trees. Finally however, we caught a first glimpse of the place (ABOVE RIGHT).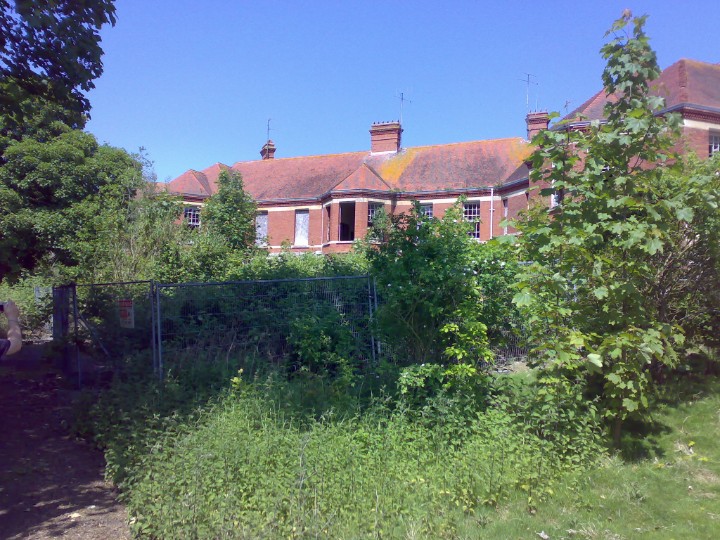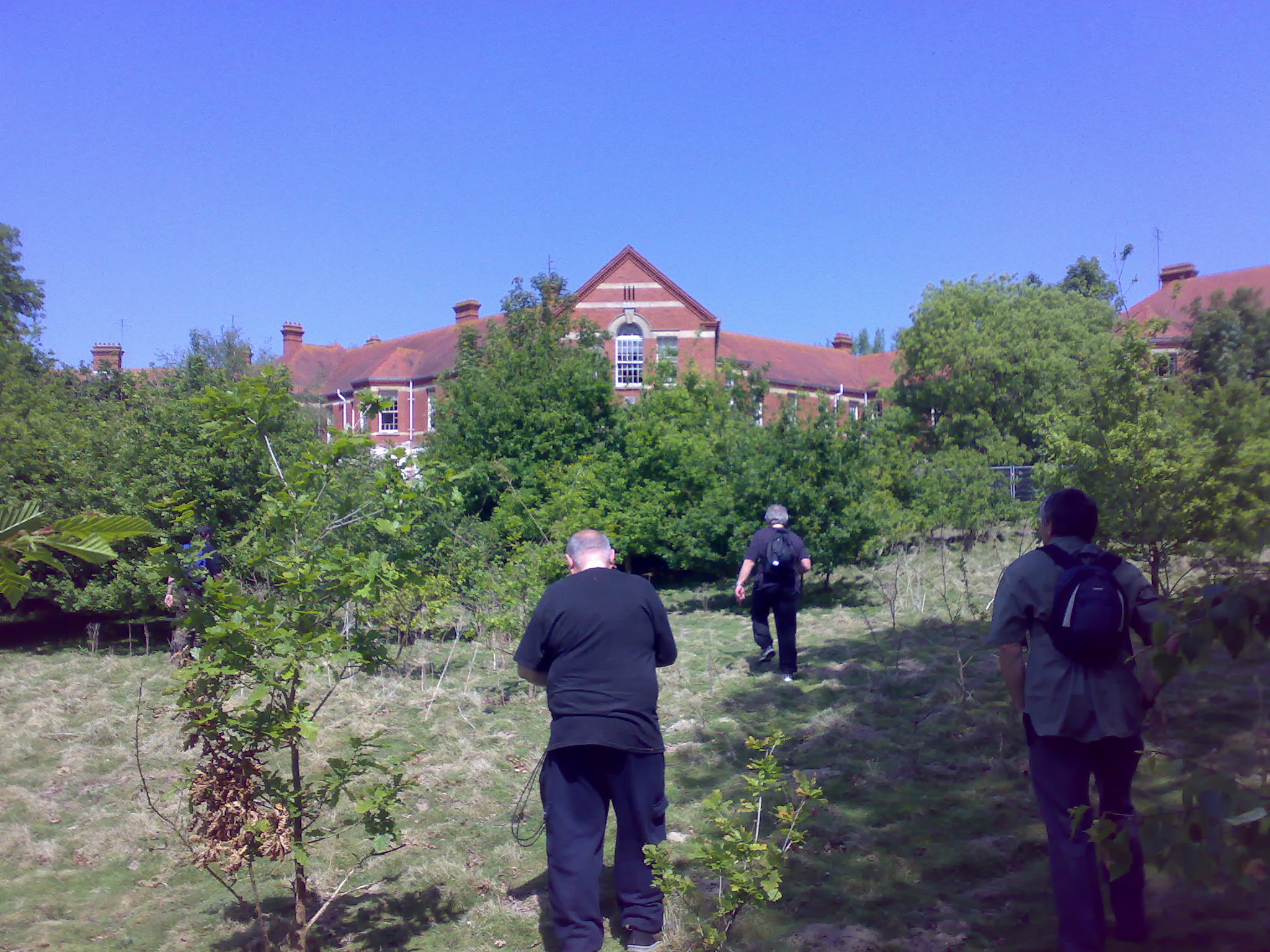 ABOVE: As described in the main body of text, we approached the main building from the south side, via a field and woodland. As can be seen in this photo, the grounds had many fabulous stock specimens of trees and bushes, a bit overgrown but thankfully all in place still and unvandalised. Our entrance point is off the left hand side of the photo, round the corner from the trees.


ABOVE & BELOW:Because so much of the main building is hidden by trees, it is quite difficult to gain any impression of the size of the place until quite close to it. The 2 panoramic shots shown here are just one corner of the southern side: the south-west corner.


BELOW: As can be seen in the picture below something (or was that someone) was waiting to 'greet' the team upon its arrival at the hallowed grounds of Hellingly Hospital.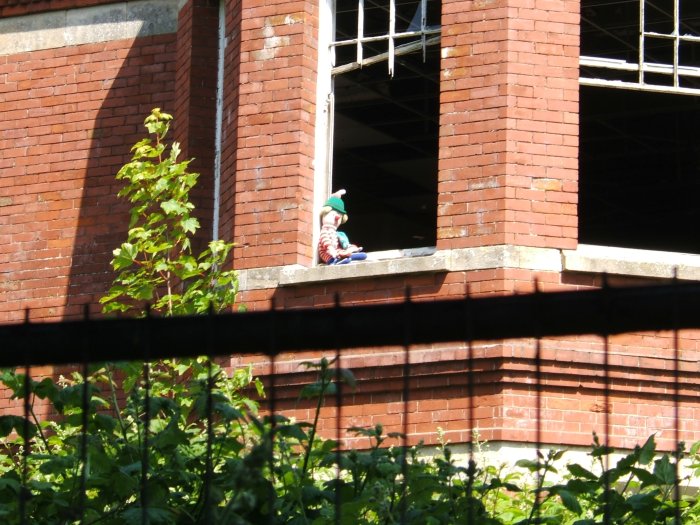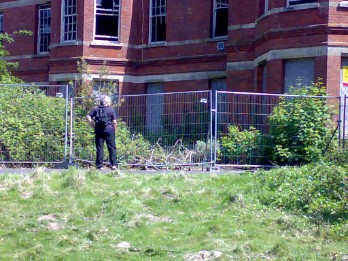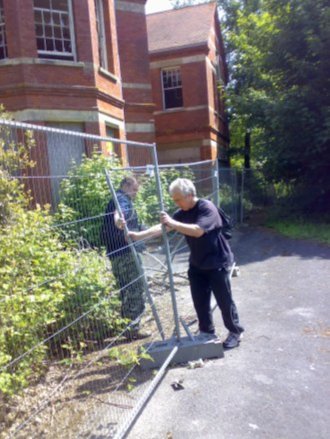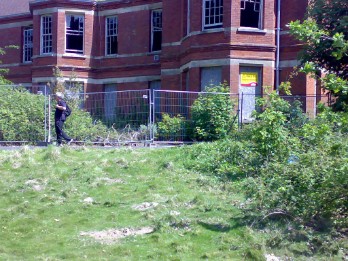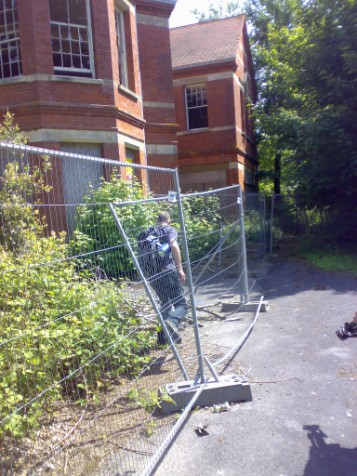 ABOVE, CLOCKWISE FROM TO RIGHT:

1/ "Lawks a Lordy! I appear to have inadvertantly stumbled upon an abandoned Lunatic Asylum!"

2/ "That'd make a lovely photo, if only this silly fence wasn't in the way"
3/ "Look at this shoddy workmanship! Call this a fence?"
4/ Skyframe decides now's as good a time as any to go jogging.

BELOW: Found it! Agent Holmbush checks the coast is clear. (NB: the image has been doctored).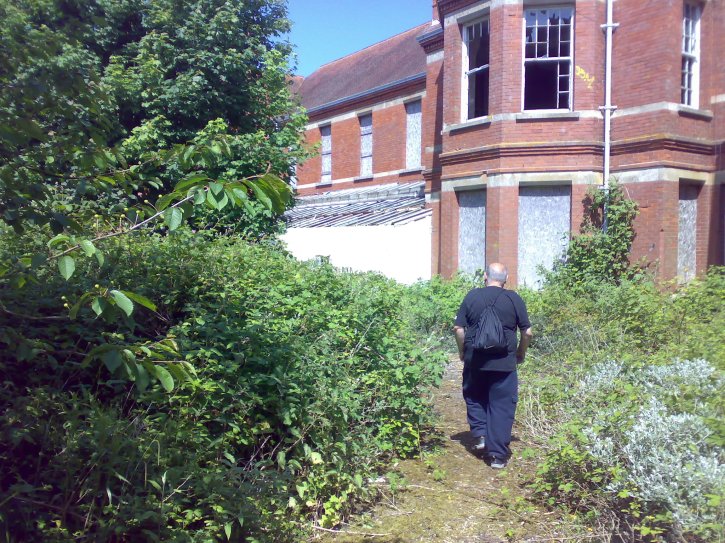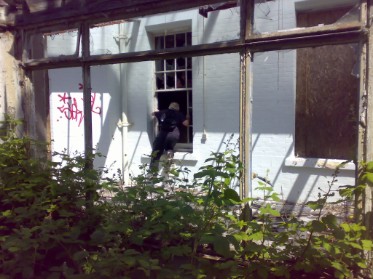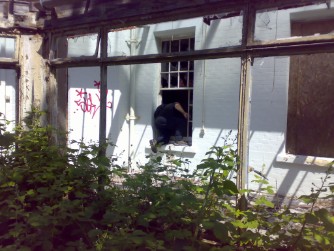 BELOW: One of the first rooms we found was very strange indeed and appeared to have been used by some sort of bonfire society to store effigies for a future event that never came.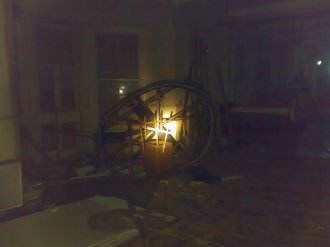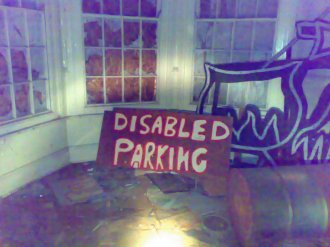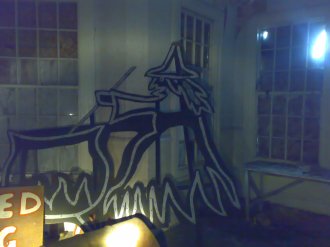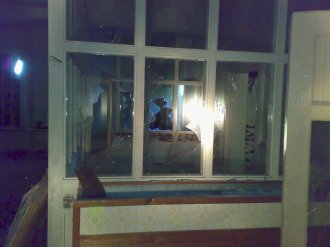 **************

BELOW: Upstairs next, via the first available stairwell. It is easy to forget about the state of these old buildings when you're galloping around looking at all these spooky old things and there are a lot of places where the floors are either badly damaged or worse still not present at all, so if there is a safer solution, stay to walkways you know are safe. In the case of Hellingly, a lot of the upper floors are concrete so areas with crappy floors can be quickly and easily bypassed as there are plenty of stairways up or down.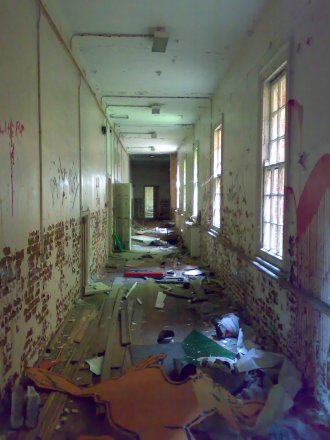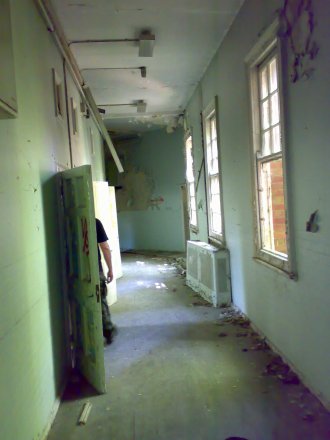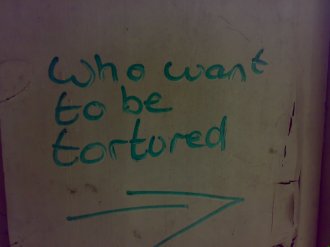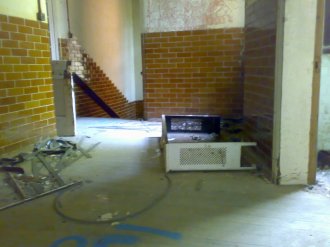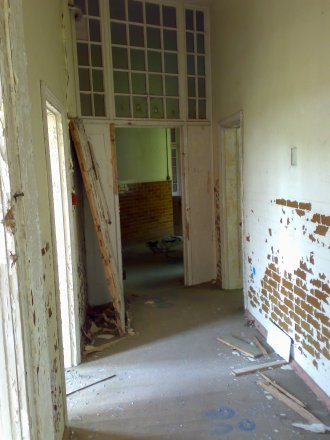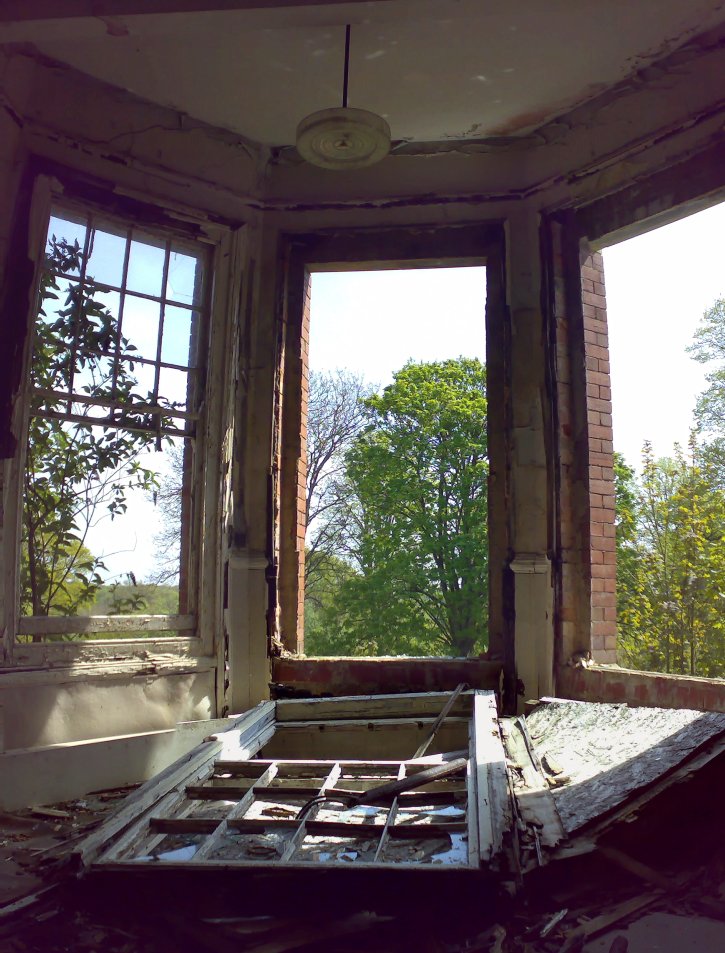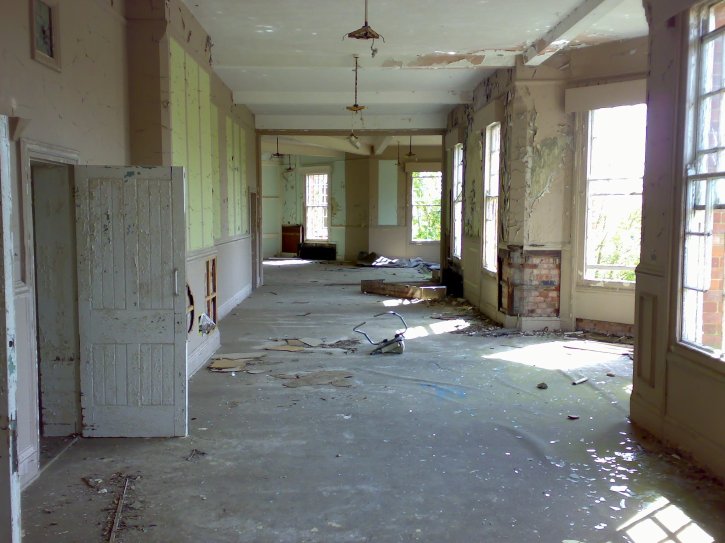 ABOVE: As the layout of Hellingly is to G.T.Hine's famous "Arrowhead" design, each room will usually have a corridor at either end, so that if one of the poor inmates did a runner, they'd most likely end up in another room with more inmates!
BELOW: Further along we found some observation rooms: these little rooms had small glass windows over the doors, all at least an inch thick and all smashed, which must have taken a huge amount of effort. I can't see the point, really...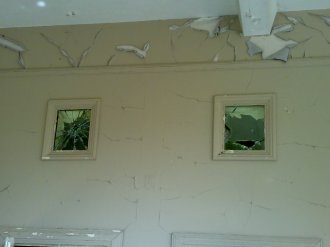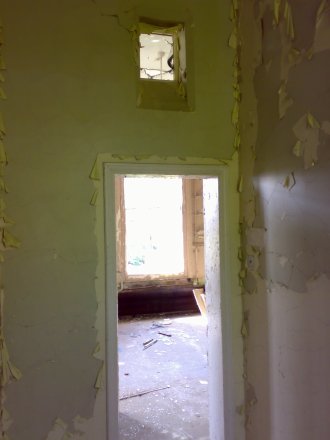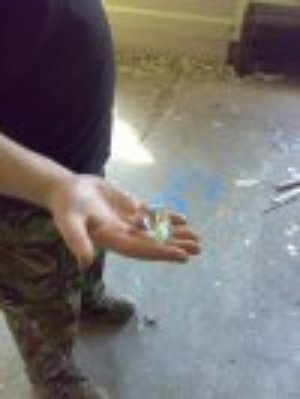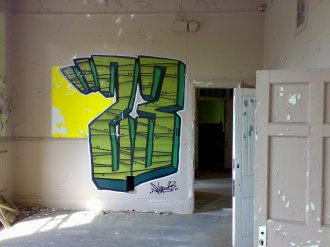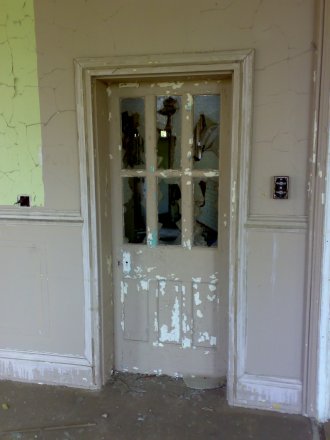 RIGHT: There is no shortage of lavatories and washrooms in Hellingly. This is no real suprise as it had around 5000 inmates at the peak of its operational life.  In most places, the sinks and toilets have been smashed, but if you wander off the beaten track, there are some rooms and funny little artefacts that are amazingly untouched.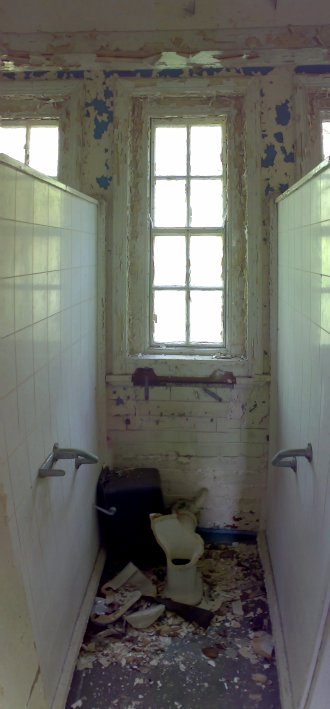 BELOW: Due to the layout of Hellingly, there are large areas inside the perimeter walls which would originally have been courtyards, exercise areas and in one instance, a covered reservoir. As the block was abandoned in1994, nature has started to reclaim the site.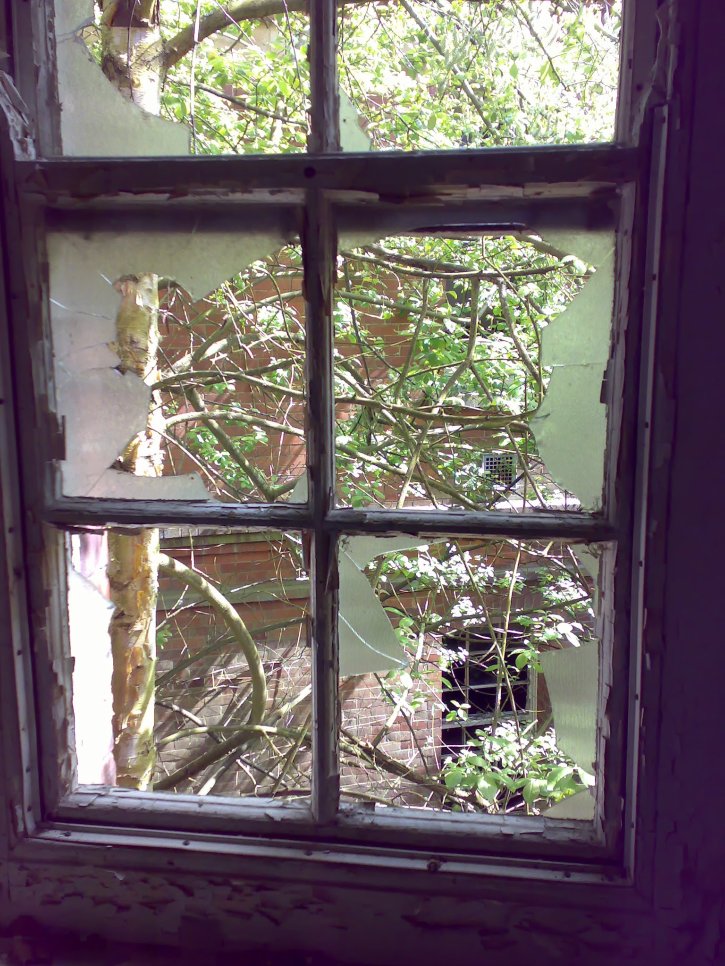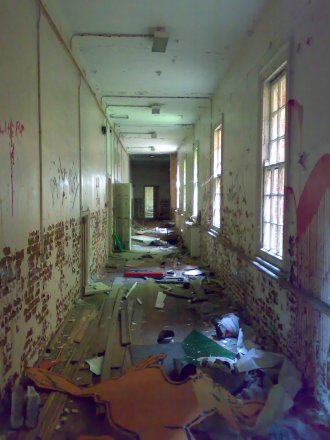 ABOVE: Back towards a handy stairwell for a quick gander downstairs again...

BELOW: We found this bathroom adjacent to the toilet block shown above. It was pleasing to see that the baths were not quite so smashable as the sinks and toilet bowls!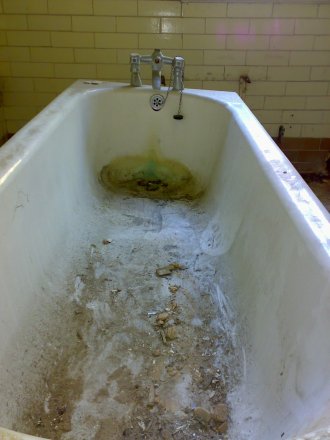 RIGHT: This little practical joke made us look twice: when seen from the corridor out of the corner of your eye, it looks quite a lot like a little girl standing there looking at you! Quite freaky...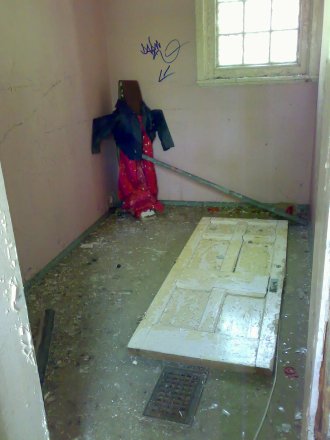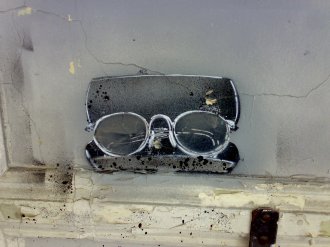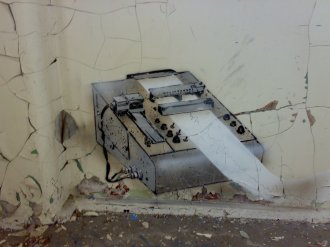 ABOVE & BELOW: Hellingly is a great place for grafitti and there are some fantastic examples to be found all over the place, some are really very subtle. The glasses on the left are lifesize and sit neatly above a dado rail in one particular room: I almost walked past it! The funny little machine is tucked away in the corner of a room.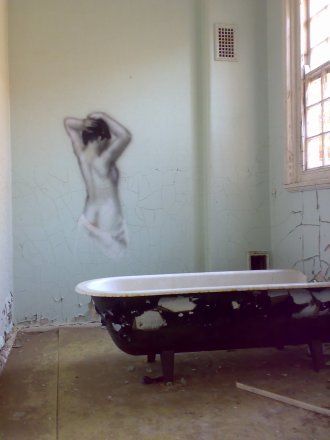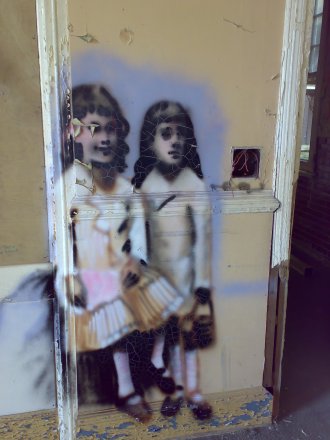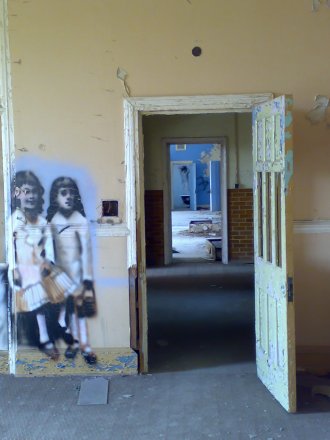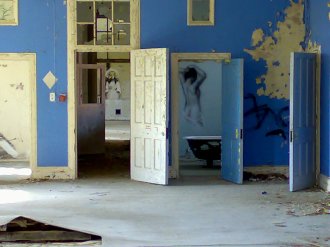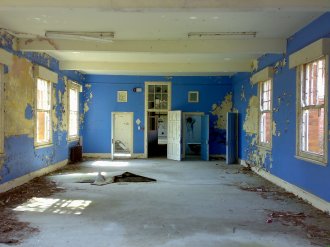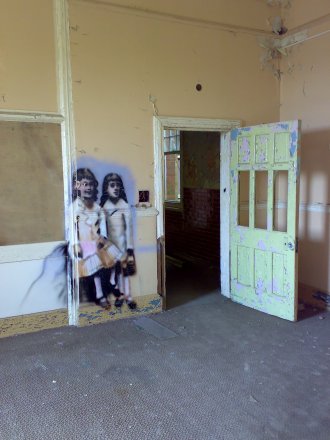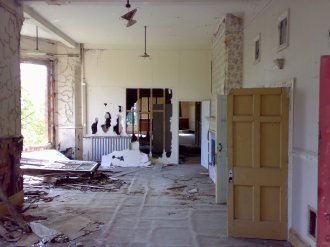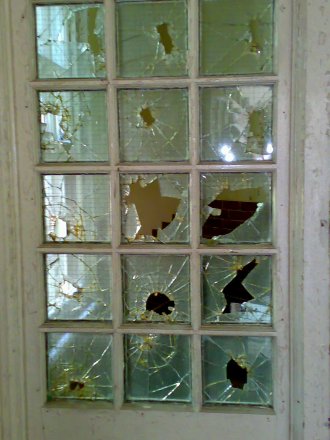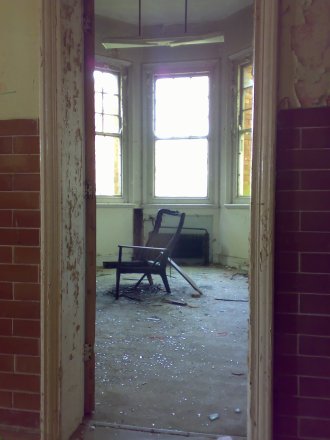 ABOVE & LEFT: It was difficult to know where to point a camera after a while, because almost everywhere we looked there were just so many new and incredibly photogenic views.Despite some quite freaky things we saw around the place, it didn't feel at all threatening and as Agent Sansom commented, "it just feels like a big old peoples' home"!....only with slightly more vandalism and fewer windows and amenities.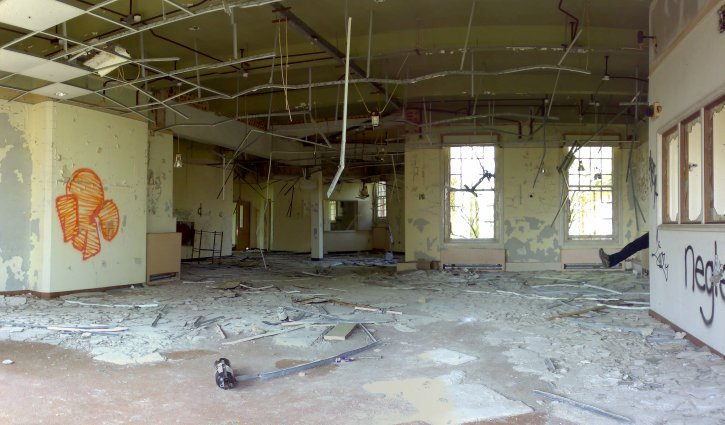 ABOVE: Whilst suspended ceilings are usefull for hiding a multitude of sins, they're not very vandal resistant. Skyframe puts his best foot forward, doubtless fed up with ducking out of shot in order to maintain his anonymity...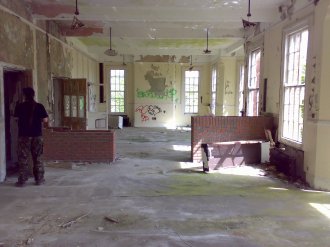 ABOVE: This was a bit peculiar: I think they used short brick walls to divide the rooms up. It's unclear whether the wall was damaged by vandals or just not finished, because there was no corresponding rubble.
RIGHT ABOVE & BELOW: There is no shortage of corridors! Lot's of walking to do...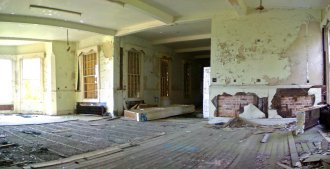 ABOVE: There was something moving around in here unseen, probably nothing to worry about, but it was enough to freak me out and make me rapidly rejoin the rest of the group!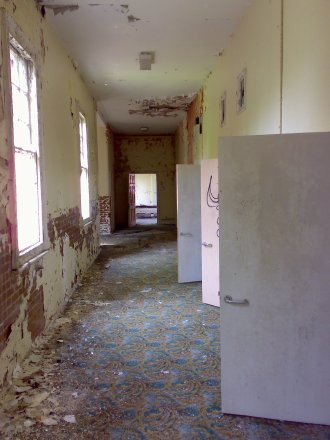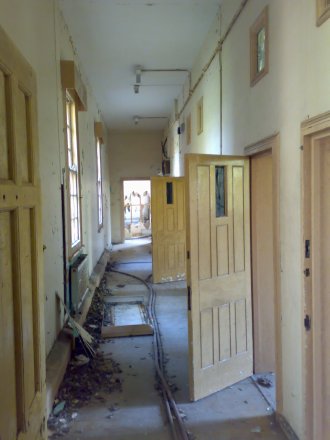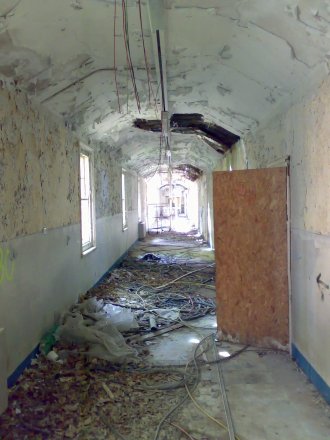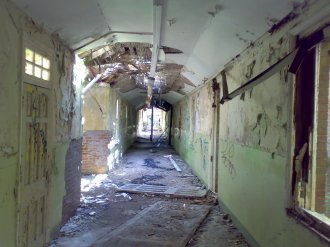 LEFT & BELOW: We next ventured into one of the enormous diagonal corridors. At this point, the feel of the place starts to change tangibly. Because there are no upper floors to the main corridors (diagonal east & west plus one across the middle of the complex running roughly east to west), the rooves are damaged in a lot of locations or at the very least starting to cave in.

As a result, there is a good deal more encroachment by greenery. Instead of smashed wall tiles and broken glass, there is now a new element provided by leaves. In places, the floors were littered with cables stripped from the roof, obviously by opportunists looking for high value copper cable. However, because the cable is steel, it is not so valuable and as a result has just been pulled out and slung on the floor.
In places, the ceiling and roof has been burnt away and whilst quite dangerous to be around on grounds of instability, provides yet more photogenic opportunities!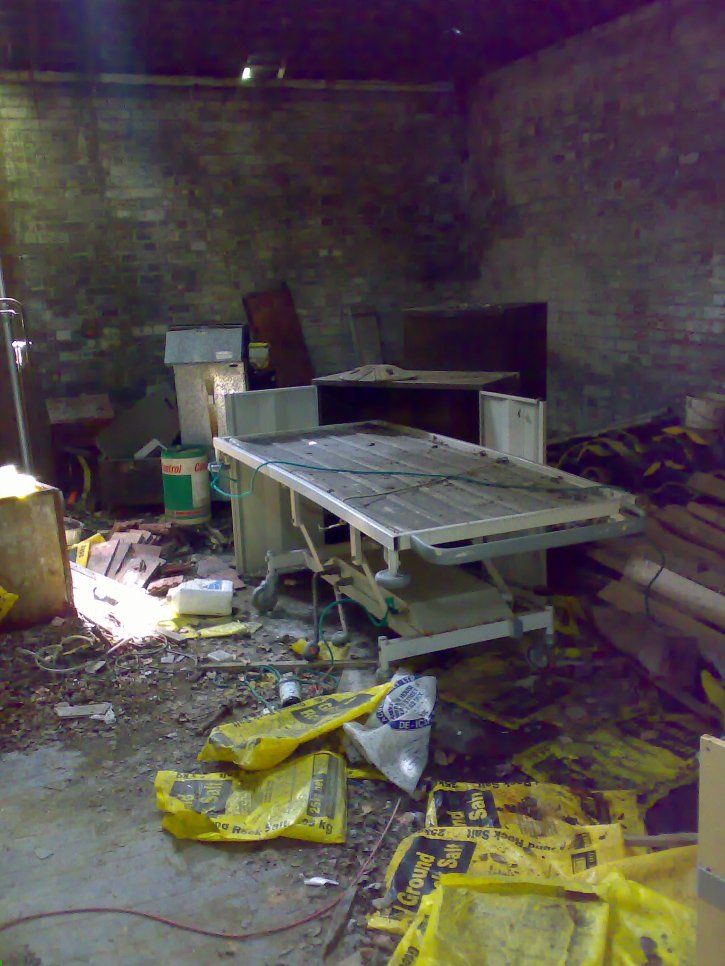 ABOVE & BELOW: The next room we found on the ground floor was a small laundry room (assumed on the presence of the large industrial washer BELOW, but really quite difficult to tell sometimes). There is a huge amount of incongruity regarding the contents in some rooms: there are bags of concrete, a washing machine and a hospital bed (ABOVE), which had a rather unnerving lived-in feel to it and conjoured up all manner of dark images in the mind.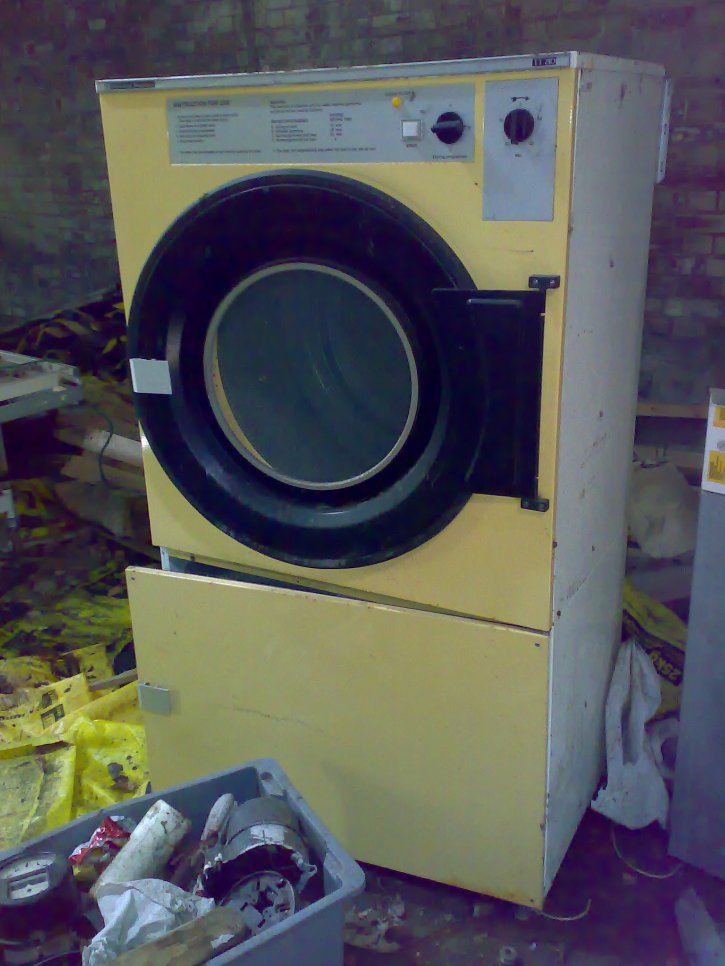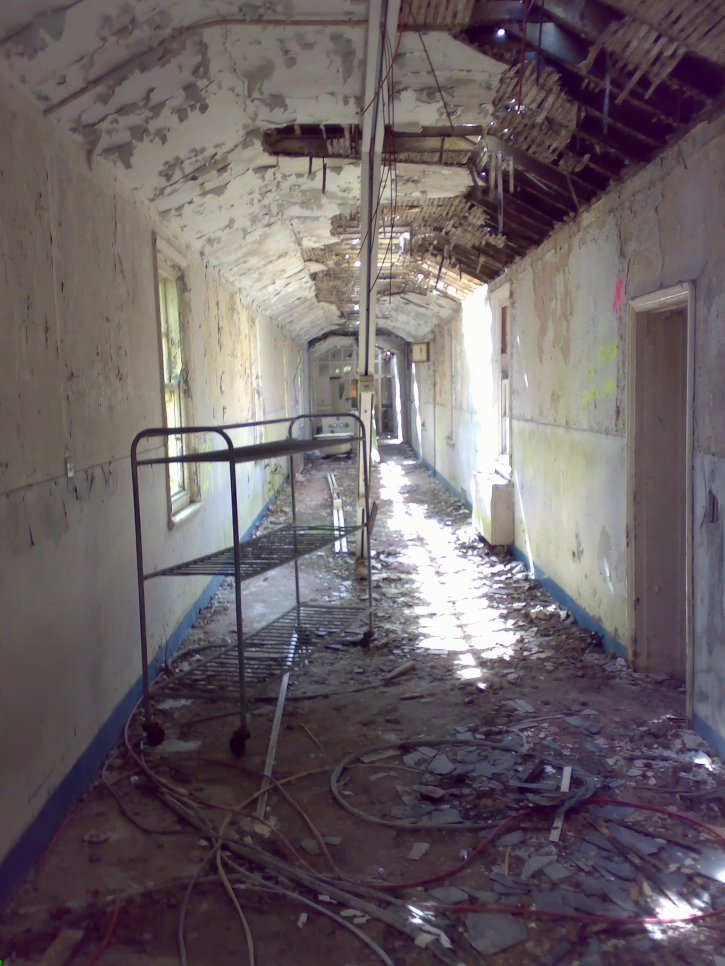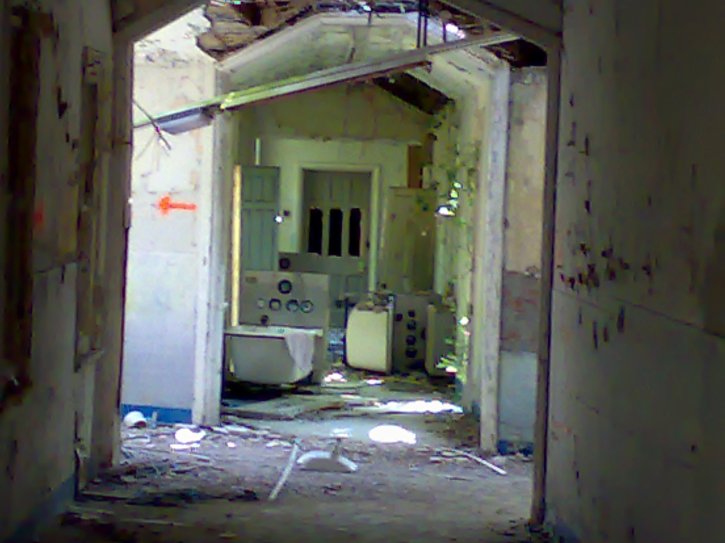 ABOVE: Back out into the corridors. There is a junction between the west diagonal corridor and the central corridor (is this right, Rich? LOR) which was littered with bathing machines and gave the impression of some kind of 'stop motion traffic jam'! It was quite surreal.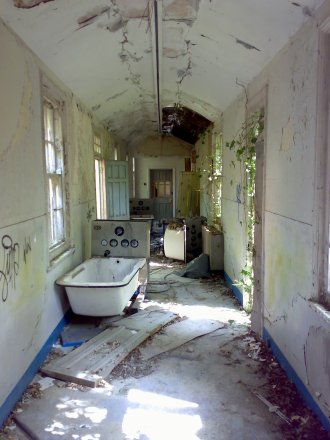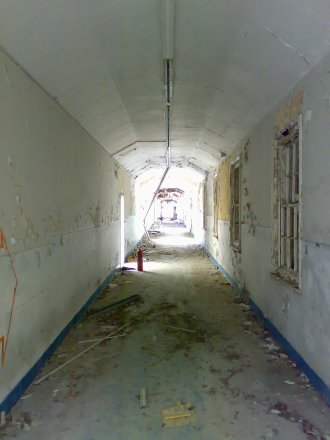 BELOW: Dead end! As has been mentioned previously, the ground floor is largely wooden with a about a metre drop underneath in most places, so care must be taken!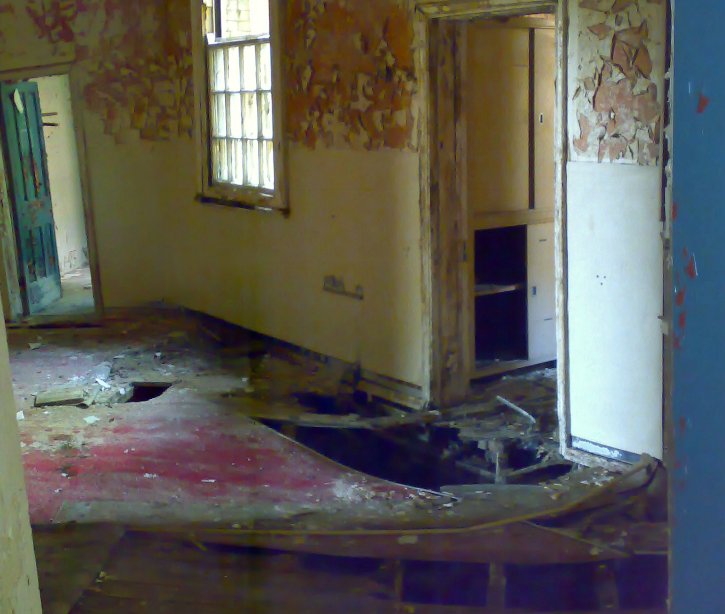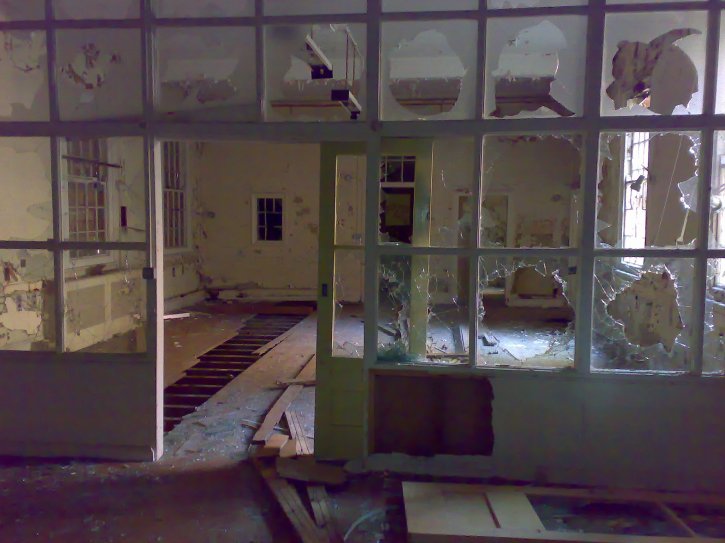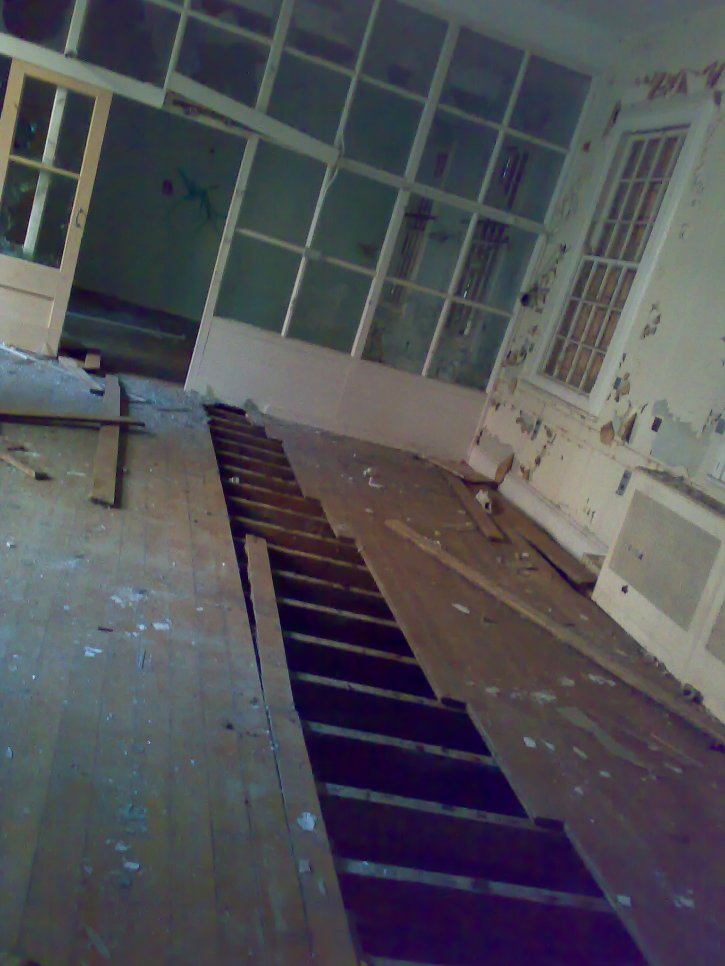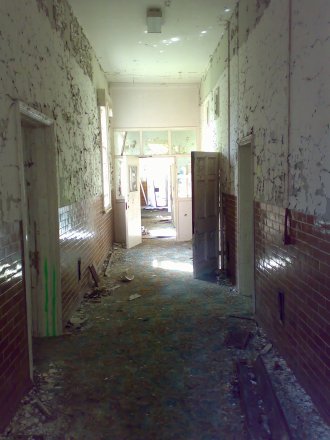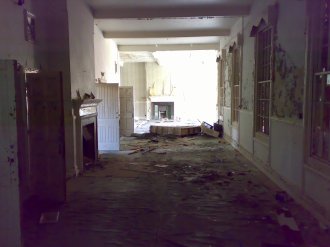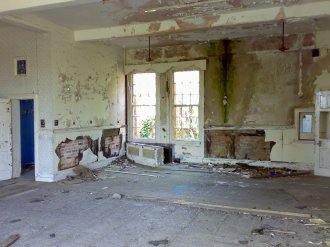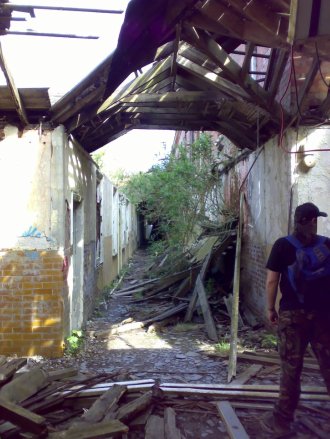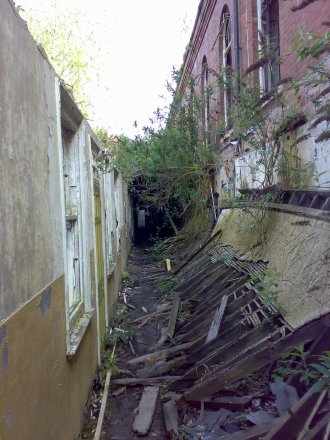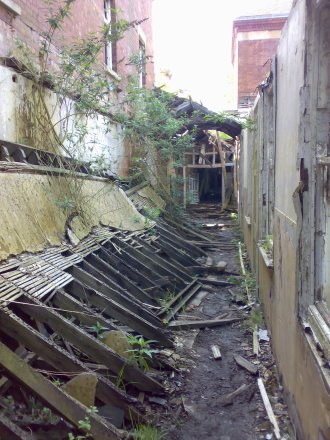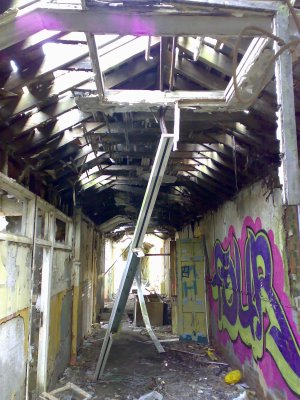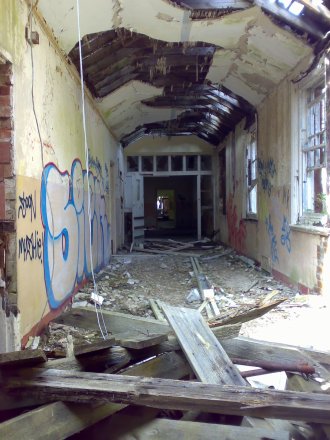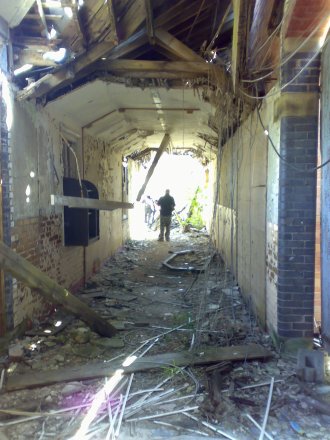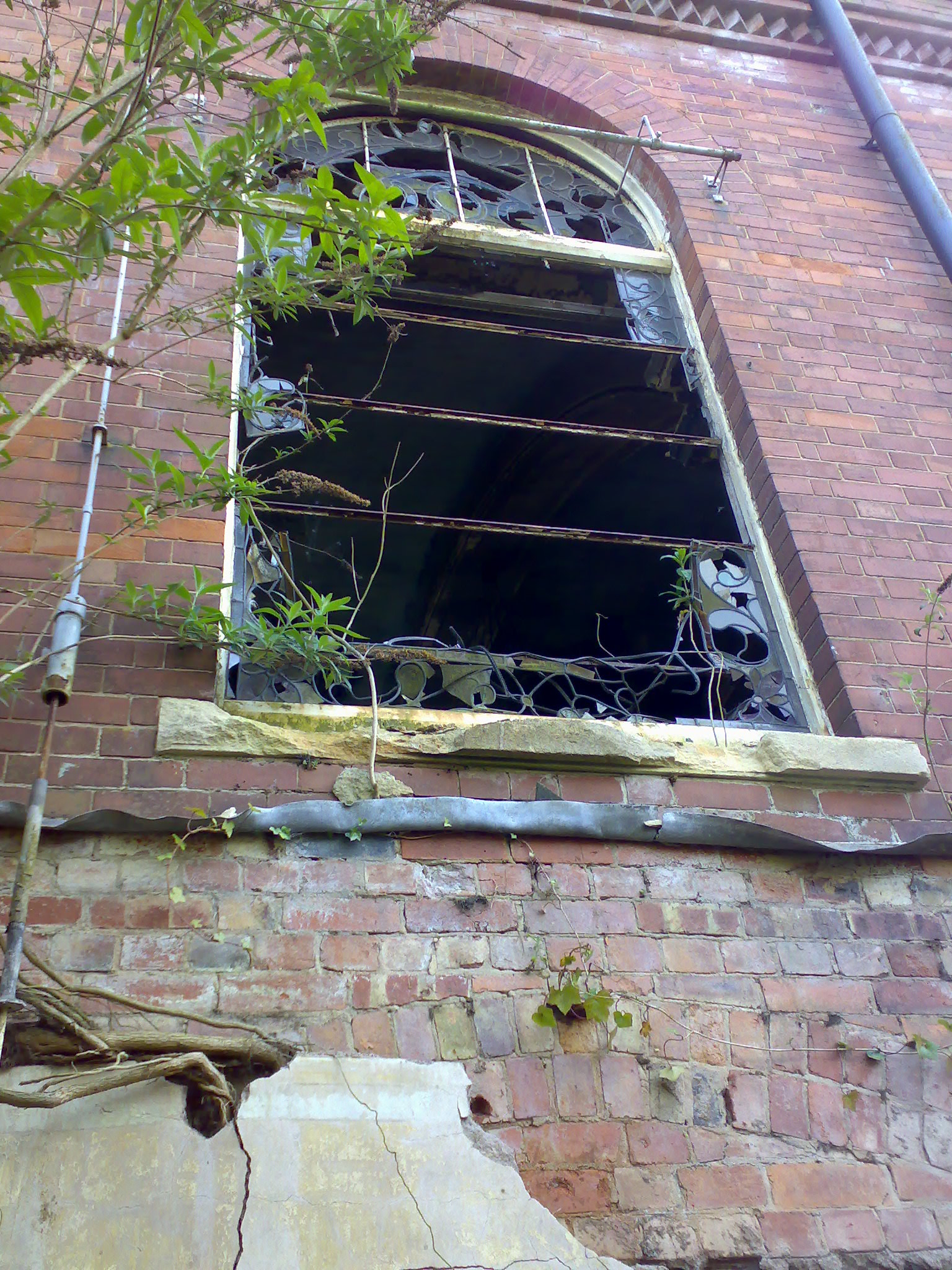 ABOVE RIGHT: After an incredible array of corridors, stairwells and all manner of weird and wonderful communal areas, we found our first major waypoint, and it deserves a chapter all to itself. Ladies and Gentlemen... Welcome to the Great Hall

Proceed to The Great Hall